This year is Silver Orchid Photography's 7th annual Christmas Experience!  I hope this helps answer any questions you have, but feel free to contact support@silverochidphotography.com if you have others!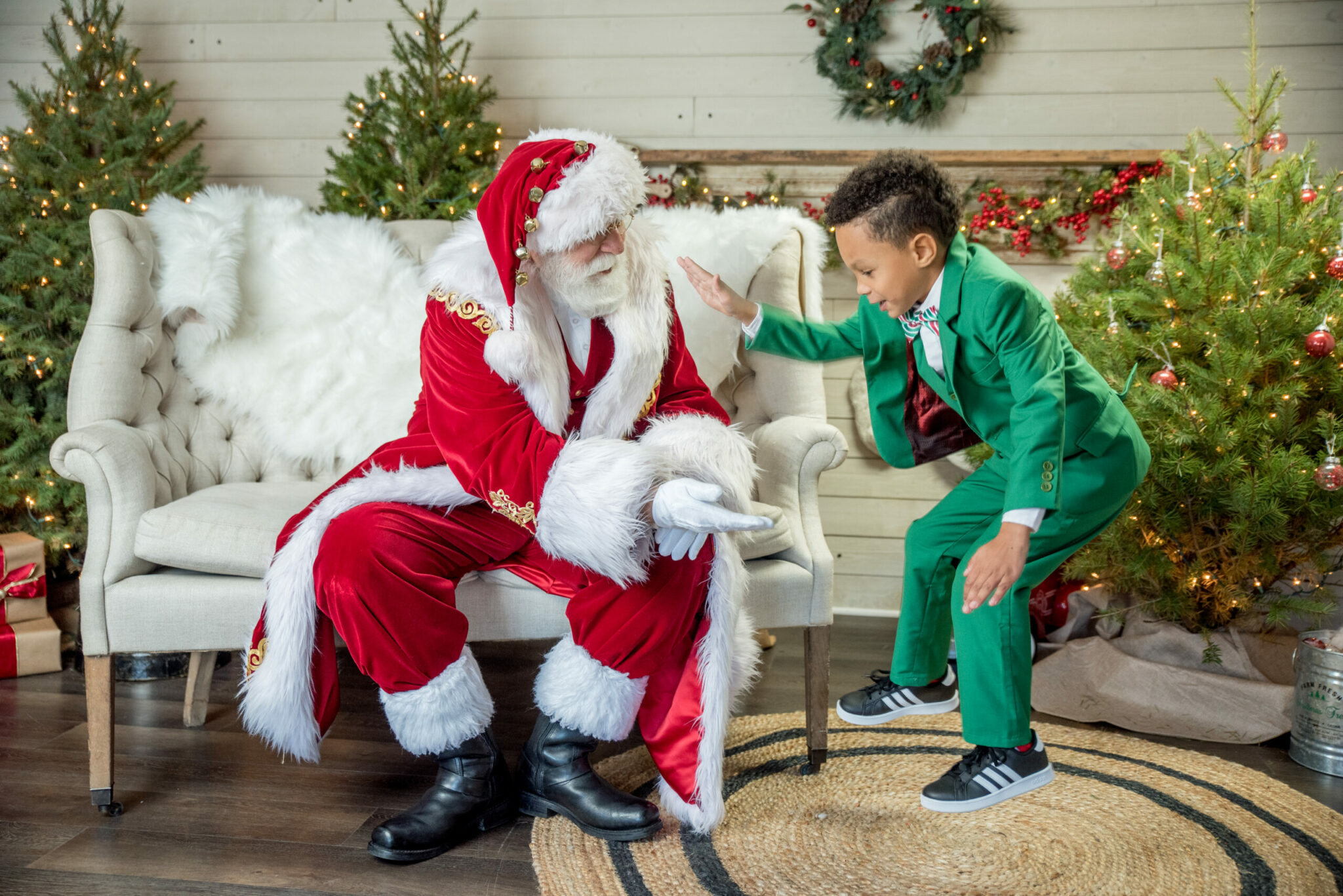 Ready to Book?
Click here to book!
Where is Cool Yule?
This year, we are offering two types of Cool Yule experiences – one at our NEW location, Cross Gables Estate (701 Old Valley Rd, Exton, PA 19341,) and one in the beloved Skippack Village (4039 W Skippack Pike #2, Skippack, PA 19474).  At both locations, you will experience all the same holiday joy and spirit from our staff and our beautifully designed sets. At Cross Gables, you can expect the traditional Cool Yule holiday magic with a "North Pole-Inspired" twist. In Skippack, you can expect smaller crowds, 1-on-1 time with Santa, and a peaceful night out in the village.
*Note: complimentary crafts, refreshments, and live music are EXCLUSIVE to the North Pole Experience at Cross Gables Estate. For families attending Cool Yule in Skippack, we encourage you to make it a day out in the village and visit our favorite local shops & restaurants!
Check the information page or booking confirmation for details!
What do the sets look like?
Click here to see our set design and inspo page!
What to Wear?
Cool Yule Style Boards are here!
How Can I Make the Best of the Cool Yule Experience?
After 6 years of Cool Yule, we have put together some tips for Making the Most of Your Cool Yule Experience.
What should I expect?
Cool Yule signature sessions are 10 minutes each (plenty of time for individual and family photos).   Crafts and Refreshments can be enjoyed during the weekend dates at Cross Gables Estate.
*Note: complimentary crafts, refreshments, and live music are EXCLUSIVE to the North Pole Experience at Cross Gables Estate. For families attending Cool Yule in Skippack, we encourage you to make it a day out in the village and visit our favorite local shops & restaurants!
Please arrive 15-20 minutes early.  You should check in  when you arrive.
10 minute sessions? How is this possible?
There is so much wonder and magic happening that there is no shortage of time with Santa and in all the other sets.  My team delivers 7-10 final images to each client.  My photographers aim for a smile, but will also capture all the wonder and the magic that your children experience in those in between moments.
Can I bring extended families for sessions?
Due the the time restrictions of Cool Yule sessions, extended and combined sessions can only be honored if you book multiple, back to back sessions.  Please contact support@silverorchidphotography.coms to confirm the number of sessions you should book.
Can I book more than one set?
Absolutely! If you are booking more than one session on the same day, please allow at least 20 mins or more in between bookings.
Are some of the sets designed to fit adults?
All the sets can accommodate adults.
Will there be somewhere to change?
There is a changing area at Cross Gables, however none of the Skippack locations will have a changing area.
What Time is my session?  How can I change my session?
You received an email confirmation when you booked your session.  All confirmation and cancellation info can be found there.  Deposits are non refundable, if you need to reschedule please email support@silverorchidphotography.com.
Parking?
Please drive slow in the parking areas there will be kiddos galore…and we all know how much they pay attention.  There is plenty of parking at all locations. If it is a wet muddy day, you may want to wear boots/sneakers and pack your shoes you are wearing in the photos
What's the cost?
Signature Seasonal Sessions = $175
Classic Christmas, Classic Christmas w/ Cookie Add on, Land of Sweets, Little Red Truck, Christmas at the Gables, Santas Storybook , Christmas Cookies with Mrs Claus w/ Cookie Add on
Signature Santa & Mrs.Claus Sessions = $200
Premium Santa Bernard & Reindeer Sessions = $225
Christmas Cookie Experience with Santa Bernard = $450
What's included?
Each session you purchase includes  all the holiday magic and memories we can dream up for you + ALL digital images and print release.
How can I pay?
A  non refundable deposit is due at booking for signature sessions, You can pay with a credit card. The balance is due on the day of the event and is CASH ONLY.
What is your cancellation policy?
All session deposits are non-refundable but transferable to another 2022 Cool Yule session ONLY if requested 48 hours before your session time.
If you need to cancel for any reason, please do so at least 48 hours prior to your scheduled session time. You can cancel your session by going to your confirmation email or reaching out to support@silverorchidphotography.com . Any no shows will be billed the remaining total due.
You may also post your session for sale in the Silver Orchid Community facebook page if you are no longer able to attend. If someone in there would like your spot, we ask that you connect with them individually to exchange the deposit fee (they can venmo you) and then to reach out to support@silverorchidphotography.com to let us know of the switch.
When will I receive the gallery?
Be mindful, Silver Orchid delivers fully editing, color corrected, vibrant, high resolution works of art.  You will receive your images 2 weeks FROM YOUR SCHEDULED DATE…plenty of time before Christmas!
What if my child cries for Santa?
Session fees are non refundable.  Crying kids are sometimes a part of the Santa experience…and I promise, your Mommy heart will laugh at it later!  If for any reason you are not fully satisfied with any part of your day, please reach out to me personally after the event at  support@silverorchidphotography.com
I have an outdoor session scheduled, what if it's raining or freezing?
There is a great backup plan for outside and coverage will be provided!!   Dress your kids appropriately for the weather and incorporate some cute outerwear if you are worried about the cold affecting their happiness!!
Are pets allowed?
Due to venue and character policies dogs are not permitted at Cross Gables Estates or any Santa sessions at the studio. Dog Friendly sessions will be held in the studio on A Classic Christmas set on 11/22 and 11/23 from 6 to 7pm. Please choose a slot during that time frame if you would like to bring your pup for a session!
Ready to Book?