A Garden Party is Silver Orchid Photography's first ever Springtime Experience!  I hope this helps answer any questions you have, but of course contact me if you have others!
Ready to Book?
What should I expect?
Each session is 10 minutes.  Please arrive ~15 minutes early.  You should check in with the front desk when you arrive. There will be crafts and refreshments to enjoy while you wait.
10 minute sessions? How is this possible?
I will deliver an average of 10-15  images to every client per set.  You would be amazed at what we can accomplish in just a few minutes. If you have a shy or uncooperative child, don't worry we make time for you to leave and come back if it is becoming impossible…I have never had a client leave with not one photo. My photographer's and I aim for the smile, but most definitely shoot all the in-between candid moments…because really those are the ones that will surely tug at your heart-strings in years to come.
Are some of the sets designed to fit adults too?
YES! both sets will allow for children and families. Check out inspiration for the sets here.
What to Wear?
Spring Style Board coming soon!
What Time is my session?
You should have gotten an email confirmation when you booked. Please contact us and if you have any questions and we will send it over!
Where is A Garden Party?
 4077 Skippack Pike, Schwenksville, PA 19473.  Schwenskville for GPS, but this is another beauty of a barn in the heart of Skippack Village.  You will find A Garden Party right next to the Parc Bistro. This event is NOT in the Parc's barn, but is directly to the left of the Parc if you are looking at the restaurant from the street.  Its easy to miss but we'll be sure to have signs out!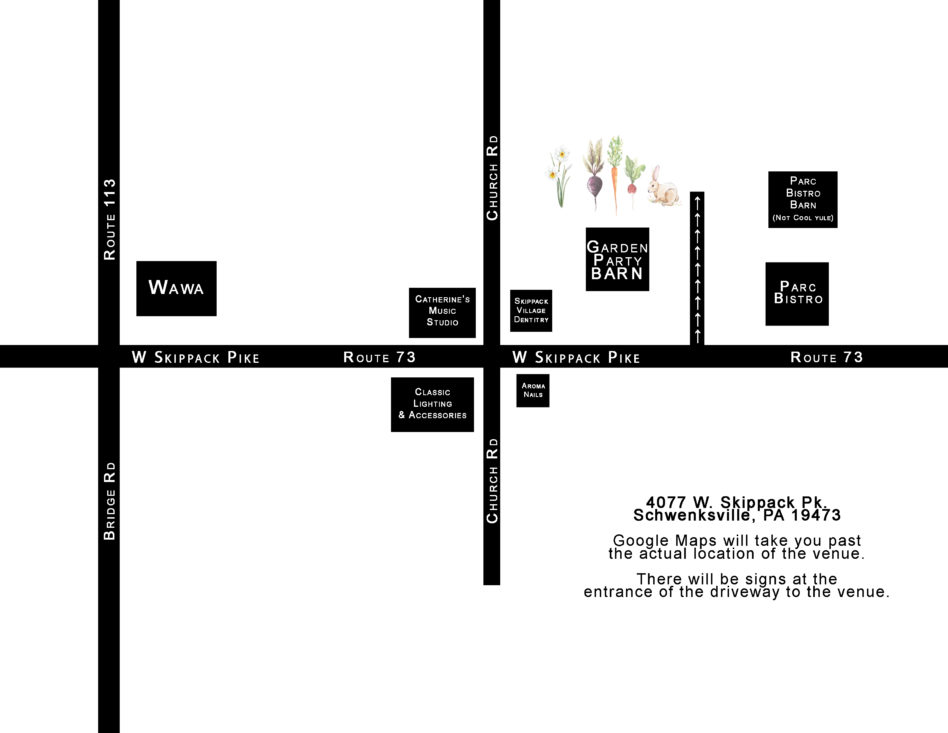 Parking?
There is plenty of parking around and behind the barn. Please drive slow in the parking area as there will be kiddos galore…and we all know how much they pay attention.
What's the cost and what is included?
Ticket price is $225. ALL. THE. THINGS are included! All the festivities, BOTH indoor and outdoor sets and ALL your final digital images are included in the ticket price.
Ticket cost is per family (up to 6). If you have a larger family or want to combine families, please purchase an additional ticket and back to back time slots.
How can I pay?
A 50% deposit is due at booking and the balance will be due the day of the event. Cash is preferred the day of the event in order to expedite check-in.
When will I receive the gallery?
There is a 2 week turn-around time. Galleries will be emailed out and you can download your images directly to your computer hard drive, external drive etc.
I have an outdoor session scheduled, and I am worried about weather.
There is a great backup plan for outside, so sessions will happen rain or shine. I'd suggest incorporating cute outerwear if you are really concerned about your kids being chilly.
What can I do in between my sessions?
There will be refreshments and crafts to enjoy while you wait. And after your session, I highly recommend checking out Skippack Village…there are tons of great little shops and restaurants to enjoy.
Ready to Book?
Subscribe To Our Newsletter
Get special offers, news, and updates right to your email inbox