Prepping for your Family Photography Session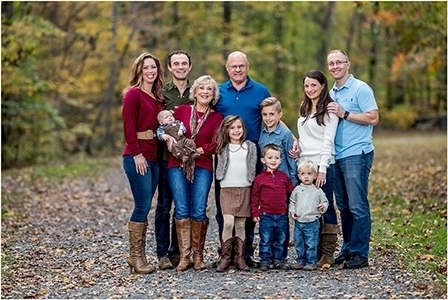 What to Expect.
My goal for every family session is to capture the true essence of your your family's personality.   A photo where everyone is looking as smiling is nice (and definitely wall worthy), but its those in between shots that inevitably become your favorites.
Family sessions can last anywhere from 30 minutes to an hour and a half.   So if you think your kids need snacks (bribes…kidding, kind of)  bring what makes them happiest.  Kids will typically determine how long a session will take.
Everything I do is custom, so I welcome your ideas for your session. I usually stick to fairly simple props (if any at all), but welcome anything that is special and personal.
What to Wear.
This is always a big stress (usually for Mom ha).  A "coordinated look" is the way to go.  Please god, don't have everyone in the same color.  Pick a color pallet that you like and coordinate rather than match.  Let each individual be unique and more true to their own personality! It will show in the images, I promise!
Just a few tips to keep in mind:
Limit prints in clothing to one person (maybe two people if it's a small print) and then base the rest of the outfits around that.
Find colors that work well with the print, ones that will accent the look.
Think comfort.
Keep your location, and how it relates to the clothing, in mind.
Think about how photos will look in your home.
Most Important "rule" — make sure the clothes bring out your individuality!
What-To-Wear Suggestions – Family Photography
Coordinate don't match!  Complimentary colors and patterns in the same color pallet add so much more interest to a photo than having everyone look exactly the same. When everyone is dressed differently, it allows for each person's individual personality to shine through, and that's what we are trying to capture, isn't it? Pick 2 to 4 complimentary colors.  Feel free to bring a couple of changes of clothing to your sessions. We can photograph as many clothing changes as you like for family sessions and older children. Layers work beautifully and can add dimension and additional color to the image and will also allow for a quick change while shooting.
Click here  to see how I personally did this recently for my family!
What-To-Wear Suggestions – Kids
Children are so fun to dress and the options are endless, but remember that simple and fun should over rule frilly, fancy or too "matched".  You want to capture your child as they are in their normal everyday life, carefree and full of spirit.  Here are some good ideas:
Converse shoes are timeless
Details like buttons, ruffles and hats can add interest
Layers like aviator/military/jean jackets, chunky sweaters are great for multiple looks
aviator/military jackets, chunky sweaters
I like unique and unpredictable clothing. Lean toward creating a look that almost looks like the child put together herself!
You know your child…if an outfit change is not gonna put them in a good mood, than stick to one outfit…setting them off could end the session and we don't want that!
 Style Guides.
Lets face it, Moms, we do not look photo-worthy every day (I mean, I know my family does not!).  Here are my top tips for getting your family holiday-photo ready:
Pick a color pallet that you like (search Pinterest for color pallet ideas. They are amazing for that!)
A "coordinated look" is the way to go.  Please, please, don't have everyone in the same color.
Let each individual be unique and more true to their own personality! It will show in the images, I promise!
As your kids get older, give them some say….sometimes ticking them off when it's time to get ready might not be the best way to get happy faces for the session.  Especially tweens and teens (Why do I know? Because this has happened to me plenty!).
Click on the links to shop the look or simply use for inspiration!
These are best viewed from your computer (IMO) because you can see the looks all together.
Shop some of our personal favorite kids boutiques:
www.maisonette.com • www.lolaandtheboys.com •.  www.sammyandnat.com • www.monicaandandy.com. • www.zara.com • www.janieandjack.com
Summer Style Guide.
Below you will find a seasonal style board for  Summer to give you a feel for the kind of current,  coordinated looks that work well together for your Summer Sessions with Silver Orchid Photography.    Need some more inspiration, check out my family style guide here!
Spring Style Guide.
Holiday Style Guide.
Fall Style Guide.
Summer Style Guide.