What To Expect From Your Newborn Photography Session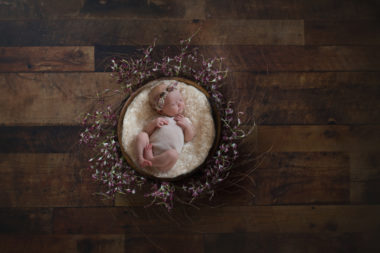 My favorite time to photograph a newborn is within the first 3-10 days after birth. Babies are still super sleepy, and still  as smushy  as they were in the womb.  They usually sleep very heavily, and those early days tend to be before the onset of any possible baby acne or colic.  All of these factors make for a more calming session, and it also makes the more difficult poses possible.  Beyond 2  weeks of age,  poses that require the baby to be in a deep sleep may become impossible.
Props.
This is a perfect time to capture their beautiful baby skin tone and their true smallness.  This is why I prefer them to be photographed in simple wraps, timeless clothing, or even naked.  A simple detail like a flower, head band, a tie, or even a handmade knit hat is all they really need.  I have tons of props in the studio,  but I always welcome your personal touches and ideas!  I suggest searching for uniquely crafted props on Etsy,
Timing.
A newborn session can last last 1-2 hours.  I spend a great deal of time getting perfect hand/feet placement, facial expressions, waiting for smiles, etc.  This time block also allows  for feeding/nursing, changing set-ups, and calming/nursing baby back to sleep.
Siblings.
My goal is 3-5 setups per session with just baby.    Because it can be a lengthly time in the studio, you may want to wait to do a sibling session after this initial newborn session.  You can also plan to bring siblings at the end of the session time.   It can be really tough on little ones s to hang around that long.
Prep.
If you can make it work, give your baby a feeding before you leave so if they sleep on the way here we can work on getting the first set up in right away…but please don't stress over it! I'm in no rush so if you have to feed the baby here that is fine too.  My studio is very private and I am on your baby's time so just do what works best for you and your baby.
Newborns generally do not like to be naked because they get cold so easily, so I keep the studio toasty so that baby will feel comfortable and warm even with no clothes on….dress accordingly so your are comfortable too!
Completely Custom Session.
I will send out a newborn session questionnaire a few days before your shoot.  I like to get to know you a little better, learn about your family, your style, etc so that I can customize your session 100% to you.  But always feel free to contact me or run anything by me that you think is important to your session!