Cool Yule 4.0 is Silver Orchid Photography's 4th annual Christmas Experience!  I hope this helps answer any questions you have, but of course contact me if you have others!

Ready to Book?
Where is Cool Yule?
4077 Skippack Pike Schwenksville, PA.  Although the mailing address may say Schwenskville, this is another beauty of a barn in the heart of Skippack Village.  You will find Cool Yule right next to the Parc Bistro…This event is NOT in the Parc's barn, but is directly to the left of the Parc if you are looking at the restaurant from the street.  Its easy to miss but we'll be sure to have signs out!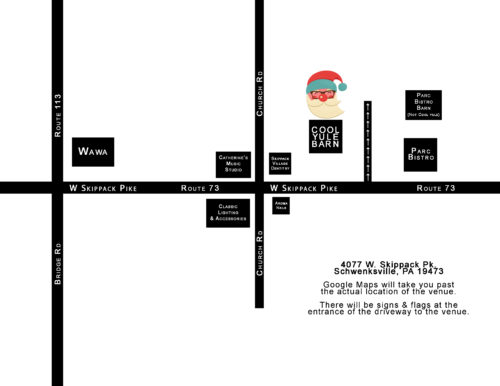 What should I expect?
Santa sessions are 5 minutes (sure beats the 15 seconds you get at the mall!)
All other Cool Yule sessions are 10 minutes (plenty of time for individual and family photos)
Cookies with Santa sessions are 20 minutes
Please arrive 15-20 minutes early.  You should check in with the front desk when you arrive. There will be crafts and refreshments to enjoy while you wait.
5-10 minute sessions? How is this possible?
There is so much wonder and magic happening that there is no shortage of time with Santa and in all the other sets.  I easily deliver an average of 10-15 images to every client.  My photographers and I aim for the smile, but most definitely shoot all the in-between candid moments…because really those are the ones that will surely tug at your heart-strings in years to come.
Are some of the sets designed to fit adults too?
All the sets can accommodate adults…Santa sessions are more geared toward kids, but family can definitely hop in for 1 or 2 photos..  Just keep in mind these are 5-10 minute sessions so there isn't time for an outfit change at the sets.   If you want to do multiple looks, book the other sets and allow time in between to change!
What to Wear?
Cool Yule Style Boards are here!  Get all the scoop on the sets and what to wear and even shop the links!
What Time is my session?
You should have gotten an email confirmation when you booked.   Please contact us if you have any questions and we will send it over!
Parking?
Please drive slow in the parking area as there will be kiddos galore…and we all know how much they pay attention.  There is plenty of parking around and behind the barn.
What's the cost?
Santa sessions are $125, while all other Cool Yule sessions are $100.
Cookies with Santa sessions are $400.
What's included?
Each session you purchase includes ALL digital images.  The cost of the session also includes all of the other festivities that Cool Yule offers for your family.
How can I pay?
A 50% non refundable deposit is due at booking and you can pay with a credit card. The balance is due on the day of the event and cash is preferred.
When will I receive the gallery?
Because the event is the weeks leading up to the Thanksgiving holiday, I will need some time with my family following the insanity of Cool Yule ;)….but you will receive your images in 1-2 weeks max FROM YOUR SCHEDULED DATE…plenty of time before Christmas!  Those that book on 11/23 or 11/24, you will receive your galleries no later thank Mon 12/6.
What if my child cries for Santa?
Session fees are non refundable.  There will be so much going on that day that we will not issue refunds for any reason.  Crying kids are sometimes a part of the Santa experience…and I promise, your Mommy heart will laugh at it later!  If for any reason you are not fully satisfied with any part of your day, please reach out to me personally after the event!!!  info@silverorchidphotography.com
I have an outdoor session scheduled, what if it's raining or freezing?
There is a great backup plan for outside!!   Dress your kids appropriately for the weather and incorporate some cute outerwear if you are worried about the cold effecting their happiness hahaha!!
I have a bunch of time in between my sessions what should I do?
Well, there will be refreshments and crafts for the kids but if you have lots of time, Skippack Village has tons of restaurants and shoppes to enjoy!
Ready to Book?